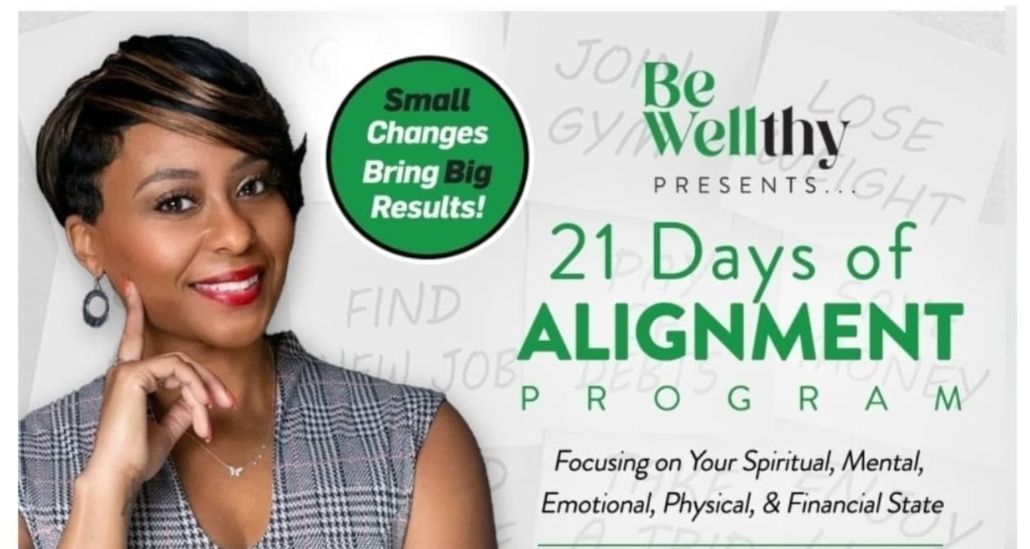 Are you stuck? Are you seeking clarity? Are you seeking purpose and peace?
We seek what's Familiar even if what's Familiar isn't Good for us.
You have to have Self Awareness to recognize the bad/unhealthy behaviors you have adopted over the years. If you don't examine you own Behavior, you will find yourself in the same circumstances year after year. You will continue to engage in the same patterns without even realizing it because it's Familiar/Comfortable.
If you are stuck, lack discipline, lack energy, want to loose weight, or just tired of being sick and tired, my 21 Days of Alignment Program is for you! BUT, YOU must be willing to do the work!
In this program you will be focusing on different areas…
Spirtual Wellth ~ Praying & Meditating
Mental Wellth ~ Reading for Self Development
Emotional Wellth~ Journaling
Physical Wellth ~ Healthy Eating plan & Workouts
Financial Wellth ~ Financial planning
This program is quarterly. Allow me to help guide your Mind, Body, and Soul for 21 days. Allow me to hold you accountable on YOUR journey to being WELLTHY!
WITH ALIGHNMENT COMES ENLIGHTENMENT!
To Register: http://Linktr.ee/BeWellthy